All you need is love and … a wedding day emergency kit.
If only these were real, everything you need in one handy place.                      Essential wedding day swiss army knife
Sometimes things don't always go according to plan.  That's why you pack an emergency wedding day kit.  Sometimes the sh*t hits the fan and you need something to wipe it off you to get on with the day.  I've compiled a list of what I think are the wedding day essentials.
Panadol (or other pain relief)
Band Aids ( clear, not novelty, no one wants to get married with a batman bandaid)
Breath mints (for that all important first kiss)
Cash (just a small amount, you never know)
Chalk (it covers up last minute wedding dress smudges)
Comb/Brush
Safety pins
Dental Floss
Hairclips/ Hair spray
Wet Ones (or even better a travel pack of baby wipes, they get everything clean)
Make up (for touch ups, you make up artist should give you what you need for the day)
Needle/thread (or a small sewing kits)
Lint roller (no one wants to walk down the aisle with cat fur on their dress)
Nail file/Hand cream
Tape (I find duct tape fixes everything)
Rescue Remedy (to calm those nerves)
Tissues and cotton buds
Tweezers
Some sort of snack (muesli bars – not the choc kind, raisins, dried fruit etc) to keep the energy up, you often forget to eat when getting ready
Sunblock (especially for an outside event)
Water bottle with straw (very important to stay hydrated)
Obviously there are a lot more things that could go on the list, but I think this list covers all the basics.
There are a lot of places where you can buy these already made up and packaged in beautiful bags ready to go, or you can definitely DIY it yourself.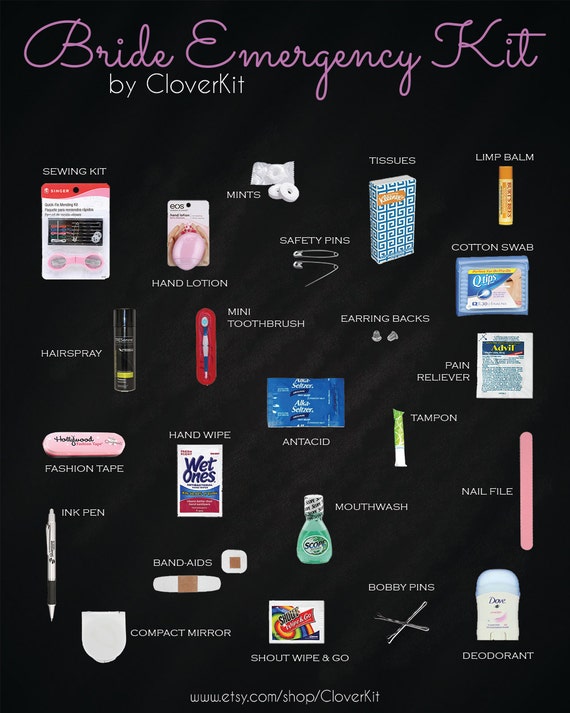 CloverKit wedding day emergency kit
This great kit is available from CloverKit on Etsy
Make it the responsibility of the maid of honour to have  the bag in the car on the way to the venue and then again after the ceremony available on the way to photos and to stash it somewhere discreet at the venue so all the bridal party know where it is if it's needed. It's one of those things that you hope you're not going to need, kinda like car insurance, but you're glad you have it, if something happens.